Today was a special day for two Toowoomba North residents, who were presented with certificates by Member for Toowoomba North Trevor Watts in recognition of years of distinguished service as Justices of the Peace in Queensland.
Ian Feeney and Joan Norris humbly accepted their certificates today, acknowledging 25 and 60 years (respectively) of service to the local community as Justices of the Peace.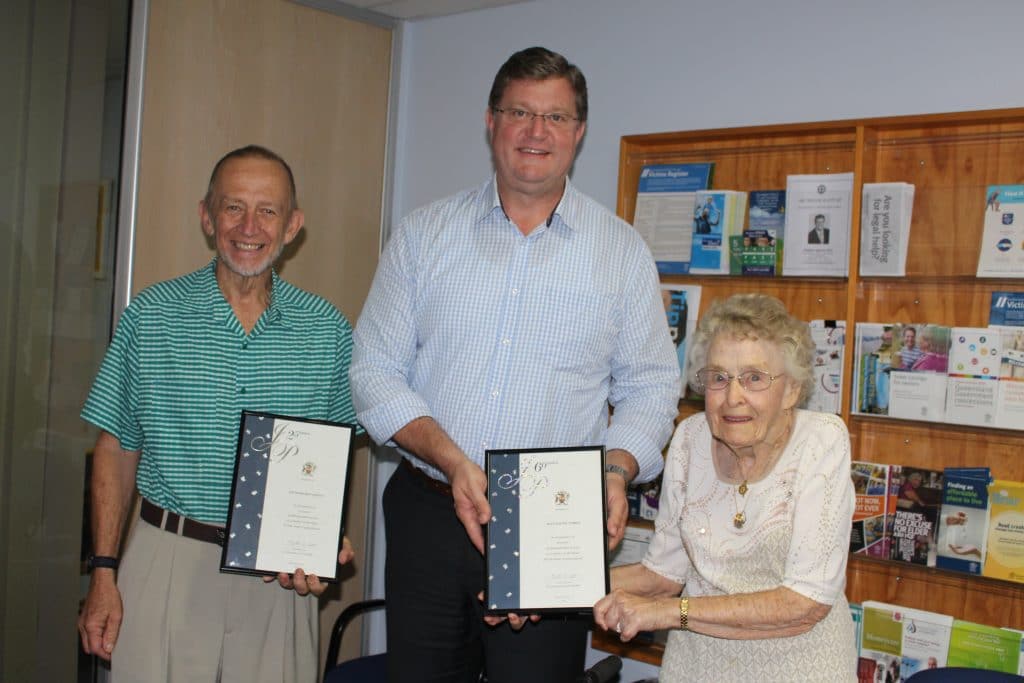 Ian first became a Justice of the Peace (JP) in 1994.  
He said the highlight of his 25 years of service was the opportunity to assist refugees and other vulnerable members of the community.
Joan's career as a Justice of Peace started in 1959, at a time when Justice of the Peace was a role rarely served by women.
Joan fondly remembers her 60 years of service as a Justice of the Peace and says her decision to become a JP was inspired by the needs of clients in the finance and health sectors, where she worked at the time.     
Mr Watts congratulated the long-service Justices of the Peace and said their combined service was a reminder of the important role JP's play in our local communities.
"JPs perform a diverse range of community legal services, often making themselves accessible to the community in local shopping centres, support agencies, businesses and offices," Mr Watts said.
"The important role these volunteers play in Queensland's legal system cannot be underestimated."
For more information about becoming a Justice of the Peace, visit www.justice.qld.gov.au/jps.