Data released by the Australian Bureau of Statistics today has revealed that Queensland Building approvals have fallen even further, decreasing by another 1.4% in October.
LNP Deputy Leader and Shadow Treasurer Tim Mander said the October data marks the fifth consecutive month of decline in Queensland's building approvals.
"Compared to October last year, building approvals have plummeted by a staggering 15.8%," Mr Mander said.
"This is further proof of Annastacia Palaszczuk's inability to manage Queensland's economy and we can't waste another four years.
"Labor's anti-jobs agenda is holding Queensland back from being the economic power house it should be.
"After five years of being Premier all Annastacia Palaszczuk has delivered for Queensland is the highest unemployment rate and most bankruptcies in the nation.
"Labor is stopping Queensland from reaching its full potential.
"A Deb Frecklington LNP Government will manage the economy for everyday Queenslanders.

"Only the LNP has a plan to invest in job-creating infrastructure by building new roads and dams, cut red tape and slash regional power bills.

"With MYFER due any day, the Palaszczuk Government needs to adopt the LNP policy of no new taxes and settle its current dispute with the property sector over land tax surcharges."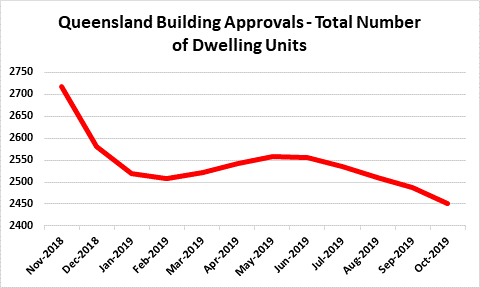 https://www.abs.gov.au/AUSSTATS/abs@.nsf/DetailsPage/8731.0Oct%202019?OpenDocument